Top posting users this month
Most active topic starters
I ran into a couple of fellas on Shearon Harris, last week, that asked about barracuda fishing in North Carolina. Since , I had not heard anything about folks catching them here, I assumed that they didn't typically make it this far north. With that conversation still fresh in my mind, I found this pic in fisherman's post and thought that it made for an interesting catch and story.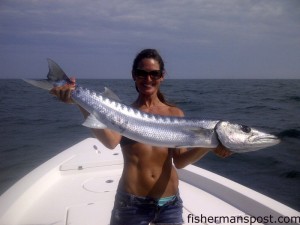 That sure is one nice Cuda!
They are
here and a pain in the but. Between them and the sharks you will stay
busy at offshore wrecks. Me and my buddy Dr Martin use to run into them
trolling toward 23 mile rock out from Wrightsville beach. I fished the
big rock area last august and we was into them pretty thick trolling
bomber long A plugs They are not as common inshore but offshore they
are a hated fish because of the smell and fear of food poisoning once
eaten. ciguatera toxins is said to stay inside you as it does in the
fish. The larger size ones are more likely to give it to you because
they have more built up inside them the the large kings carry mercury.
Once in a while one may get caught on a pier.I only know about them
because I like to fish a little further offshore where all the real pest
are but the chance of getting the trophy is better. That is a nice one
in the photo. The Young Lady on our boat missed the citation by a few
pounds. Many people still eat them and have no fear, but from Georgia
and bellow I would just through them back. My tackle trading buddy Mark
loves them.
http://search.yahoo.com/r/_ylt=A0oG7lGPdTlQSGMAa21XNyoA;_ylu=X3oDMTE1cG1oN2FtBHNlYwNzcgRwb3MDMQRjb2xvA2FjMgR2dGlkA1ZJUDA3N18xODM-/SIG=11q9pf1c2/EXP=1345971727/**http%3a//en.wikipedia.org/wiki/Ciguatera
-1
---
Permissions in this forum:
You
cannot
reply to topics in this forum