Top posting users this month
Most active topic starters
I'm finally starting to find some time to fish again and decided to head to Southport for a day trip on Sunday. While the fishing was quite slow it was a great day to get away with my crew of Chris Hall and Chris Tripoli.
The primary goal was to fish the creeks for reds and specks and hope that we might find some Spanish on the beach, later. However, as things often go, the fishing reports are far better than the actual fishing. We arrived on high tide and sat down in an area that has always produced some bites with high hopes. Immediately, I had some concerns as there wasn't as much bait present in the creek as I usually see.
After fishing the grass edges for awhile with no luck, we decided to check out some to the flooded marsh and the first spot that we came to had maybe a dozen redfish work the area. We put the anchor pin down and quietly allowed the boat to come to rest against the marsh grass. Within a few a cast Chris T. had hooked up to his first ever redfish. The comment of the day came from Chris when he said, " I think he's foul hooked!" The reply," Naw, you've just hooked a redfish!" This is a testament to the surprising power of these fish and the amazement that goes along with your first red. Chris fell just short of the 18 inch slot, so no fish were harmed during this trip, but we enjoyed seeing Chris land and release him.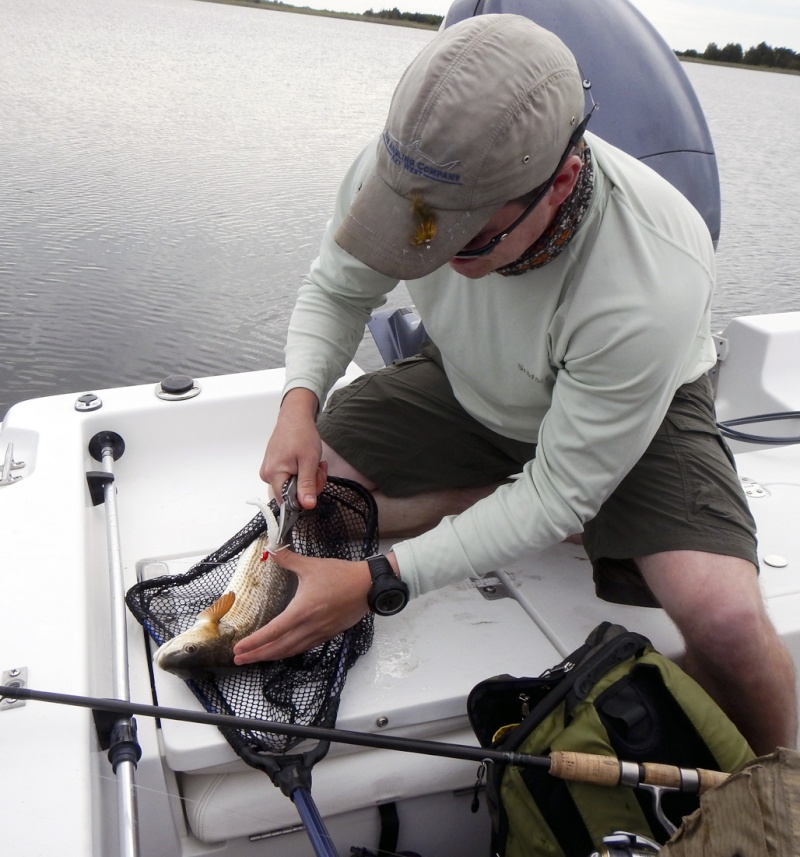 After wee spooked everything out of this spot, we decided to float the area searching for tailing fish and to our surprise we didn't see another tail in the next hour and half.
After trying trolling for a bit and a brief visit to Yaupon reef, we called it a day and back toward Fayetteville.
Any day getting some salt air into the lung system is a good day. Congrats to his first red, maybe not his last. Now get him on a upper slot and see what he thinks:lol:
Thanks for the report. Happy to hear a few folks got out to enjoy the fine weather and coastal breezes.
Congratulations Chris on your first redfish. That's what we call a "rat red". Can't wait to hear what you have to say about a bull red when you hook-up with one. I watched Scott Hobbs fight one for one hour and forty-five minutes before it broke the rod and then the line! Powerful fish!!

bparker

Deckhand




Join date

: 2010-10-26


Age

: 69


Location

: Raeford, NC



Thanks for the report tom!
Similar topics
---
Permissions in this forum:
You
cannot
reply to topics in this forum