Top posting users this month
Most active topic starters
Headed to Harris, this morning with Chris Hall and the intent to land a few crappie. The air was a bit brisk, so were in no particular hurry to hit the water and allowing the air temp to rise seemed like a good idea. 
As customary, we stopped by Mark's Bait and Tackle to acquire our minnows for the day's fishing. While paying for the bait, the clerk informed us that other anglers had been reporting finding crappie in 39ft of water and that they had been reporting large fish in ranging to 15 1/2 ".  Encouraged by these reports, I made an immediate decision to try one of the areas that I had mapped a few months ago and we headed out the door.
After launching, we headed up the lake for a cool 40mph boat ride with temps still around 35 degrees. As luck would have it, I had forgotten that it was opening day of duck season and we found the point that I had planned occupied by a raft bobbing plastic decoys being overwatched by a couple of camo clad waterfowlers.
With no immediate plan B in mind, I swung the boat out to the middle of the lake and eased the throttle down to formulate our next move which didn't take long, since I immediately began noticing huge schools of bait on the fishfinder with large fish arches hanging just below.  No sense in leaving fish to find fish. so, we began rigging lines.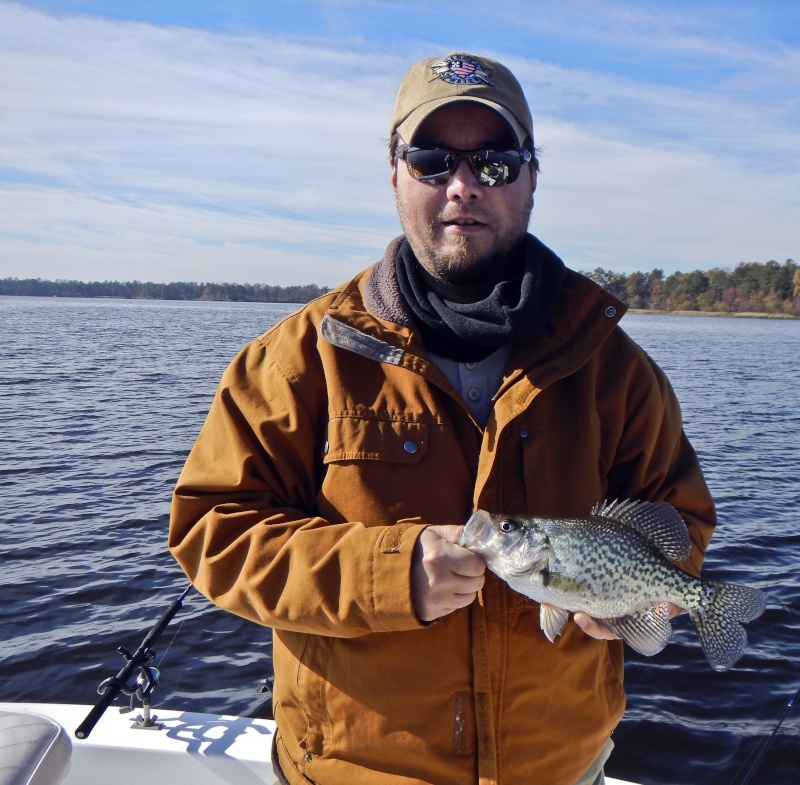 We had sitting over 30 ft of water and the water was 62 degrees. I lowered the first line into the water and placed the rod in the holder. As I was reaching for the second to rig, the first rod bent deeply and delivered the first fish of the day a very respectable 12 1/2" black crappie.  With our hasty game plan now validated, we quickly began baiting rods and getting baits to the bottom and for the next 3 hours the action was pretty heavy.  The action at times was so fast that I had fish on 3 rods at the same time and we boated a total of 28 crappie and several small white perch before the wind made controlling the boat to difficult in the main lake.
It was a great little trip and beautiful day to be on the water and  I think Chris took home a dozen quality fish for skillet.  I look forward to the next time.
thanks for the great report! I am looking forward to fishing for crappie in the yak this year!
Similar topics
---
Permissions in this forum:
You
cannot
reply to topics in this forum